Although Great Lakes Christian College exists primarily to prepare servant-leaders for the church, it also seeks to provide Christian leadership to the world.
For those who decide to serve Christ in non-church related careers, GLCC will:
Provide an educational foundation from a distinctly Christian perspective;
Provide an enhanced understanding of the Bible; and
Prepare students for professional vocations.
Cornerstone University
A collaborative agreement exists between Great Lakes Christian College and Cornerstone University.  Students attending GLCC will graduate from Great Lakes with a Bachelor of Science and Cornerstone University with a degree in the Teacher Education program.  This agreement is the result of an effort to more fully serve the academic development of our students, utilize the expertise of the respective faculties, and expand the educational options for students enrolled at Great Lakes Christian College.
Any student desiring to pursue this option can call 800-YES-GLCC.
Spring Arbor University Cooperative Program

(Elementary Education)
Spring Arbor's teacher preparation program is approved by the Michigan Department of Education for certification in Michigan . The School of Education's undergraduate and graduate programs are also accredited by the National Council for Accreditation of Teacher Education (NCATE).
Great Lakes Christian College and Spring Arbor University have a formal partnership agreement that facilitates the transition of students who are working on completion of coursework toward a certifiable major or two minors into the Spring Arbor University Teacher Education Program. Students take the appropriate GLCC courses and transfer them into Spring Arbor's program.
Visit the Spring Arbor University website.
University of Phoenix Articulation Agreement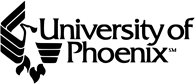 Great Lakes Christian College and the University of Phoenix have a formal articulation agreement that facilitates the transfer of students who have received an associate's degree from GLCC into a baccalaureate program at the University of Phoenix . The agreement allows for maximum transfer of credit and a seamless transition for students earning an associate's degree. A maximum of 57-72 transfer credits will apply to the baccalaureate program. Additional general education credits may be needed to fulfill the program requirements at the University of Phoenix . Students transferring without an earned associate degree can transfer a maximum of 57-72 credits for courses earned with a grade of C- or better. If a student enrolls in the Bachelor of Science in Management program, the associate degree focus will be listed as an area of emphasis on the baccalaureate degree and the University of Phoenix diploma.
The Lansing campus of the University of Phoenix is located on Lake Lansing Road . Other baccalaureate programs offered by University of Phoenix and available for GLCC transfer students are Business/Administration, Business/Accounting, Business/e-Business, Business/Management, Business/Marketing, Criminal Justice Administration, Health Care Services, Human Services, Information Technology, and Management.