A Leadership Workshop
Lead Like Jesus
Packed with 10 hours of action-oriented learning followed by a series of E-Lessons, Encounter is a highly interactive, participant-driven leadership development workshop.  It exposes common leadership misconceptions and offers a practical model based on the greatest leader role model of all time, Jesus.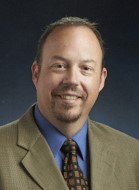 Mike Harrison, professor of Interpersonal and Organizational Communication at Great Lakes Christian College will be facilitating the Leadership Encounter Workshop. Mike uses a combination of high-energy and personal interaction along with pioneering principles and information to energize groups and individuals. With a strong commitment to personal empowerment, he leaves students with a foundation of practical concepts they can begin using and building upon immediately. Mike earned his Master's Degree in Organizational Communication from Western Michigan University. He is certified in the DISC Profile System. He has led numerous individuals and groups through team building exercises and conflict resolution processes.
BENEFITS:
Discover the difference between power-based and love-based leadership.
Learn how pride and fear inhibit you and your organization.
Establish meaningful goals and build daily habits for growth and long-term success.
Align your Heart, Head, Hands and Habits with the transformative model of Jesus.
SEPTEMBER 21-22
Friday 6:30-9:30 p.m.
Saturday 9:00 a.m. – 4:30 p.m.
COST
$149/individual
$209/couple
GLCC special rate: $99/individual and $175/couple
(brunch on Saturday and snacks provided)