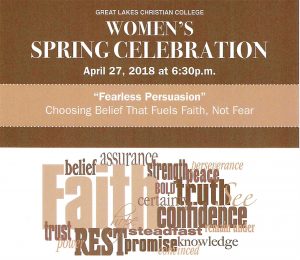 We look forward to seeing you on our campus on Friday, April 27, for our Women's Spring Celebration! We will meet together on campus in the Doty Center on that evening for a light buffet meal at 6:30 pm. The program will begin at 7:45 and end before 9:00 pm. The college is located at 6211 W. Willow Hwy, Lansing, MI.
GLCC is also blessed by the support and encouragement that the women provide through their generous offerings. This year the 2018 offering will go toward the purchase of new carpeting for the Administration Building. Our offering goal is $10,000 which will hopefully make a big dent in the $35,000 it will take to complete this project. If you are unable to attend and would like to still give toward the carpeting, we encourage you to do that. Also, please consider bringing a gift from your church and/or women's ministry.
Each year this wonderful event provides joy, fellowship, reunion, and inspiration for the hundreds of women who attend. Some of our college students will be featured through testimonies and music.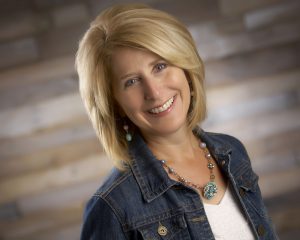 Our 2018 theme is "Fearless Persuasion – Choosing Belief that Fuels Faith, not Fear." We're excited to announce that Shelly Larson will be our speaker this year! Shelly has a passion to share God's Word as a faithful and true guide for every step. She has taught women's Bible studies, children's church, spoken at women's events and retreats, as well as one-on-one small group discipleship. She's been a workshop leader and the main speaker at GLCC's "WOW" and "REFRESH". She and her husband, Steve, are members of the 2/42 Community Church – Lansing Campus.
April 13 is the early registration deadline. If registered by that date, the cost is $15/person. Registrations received after that date will be $20/person. You can mail in your registration or go online to REGISTER. If registering a group of four or more, seating together will be reserved for you. Be sure to include the names of each individual and the church name that you are registering under. If others in your intended group register on their own, they will need to register under the same church name so that you can be seated together. For registration questions, call 517-321-0242, ext. 224.