Ryan S. Apple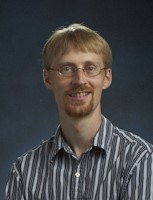 Associate Professor of Music and Director of Financial Aid
B.R.E., Bible/Theology, Great Lakes Christian College
B.S., Music, Great Lakes Christian College
M.M., Music Composition, Central Michigan University
Professor Apple's primary musical interests are the classical guitar, music theory, and arranging. He teaches in the areas of guitar, music theory, and music history, and leads the student instrumental groups accompanying the Concert Choir's performances on campus.
In addition to his musical interests, Ryan enjoys reading, playing ping-pong, and writing poetry. He is married to Darcie, another GLCC alum, and they have been blessed with five children. They are part of Delta Community Christian Church, meeting in homes throughout the Lansing area.
Ryan has recorded a classical guitar CD entitled G.O. (released March 2013). All proceeds of the recording are donated to G.O. Ministries, a Christian mission organization.