Books for Christian College Students
Whether you are a Christian college student yourself or looking for a great gift idea for one, you can't go wrong with the following suggestions.
Check out this amazing list of Books for Christian College Students
Most Christian college students separate their academic life from church attendance, Bible study, and prayer. Too often discipleship of the mind is overlooked if not ignored altogether. In this lively and enlightening book, two authors who are experienced in college youth ministry show students how to be faithful in their studies, approaching education as their vocation.
This revised edition of the well-received The Outrageous Idea of Academic Faithfulness includes updates throughout, two new substantive appendixes, personal stories from students, a new preface, and a fresh interior design. Chapters conclude with thought-provoking discussion questions.
There's more to college than classes, credits, and a nonstop social life. It's more than getting a degree to improve one's job prospects. College is a time where students develop into the adults they will be for the rest of their lives, a time to explore the big questions about life and human destiny, a time when they form their character and faith.
The perfect gift for high school graduation, Make College Count helps students make the most of their time in college. It encourages young people to ask important questions of themselves, such as:
Why are you going to college?
What kind of person do you want to be?
How do you want your life to influence others?
With whom will you surround yourself?
What do you believe?
and more
The Campus Survival Guide, from the editors of the popular Student to Student and Campus Voices books, features 60 student essays on topics ranging from communion sacraments to super heroes. Like its popular predecessors in the series, each devotional includes a list of Scripture readings for the week, along with a companion article offering helpful, humorous or inspirational information. Articles coincide with events commonly occurring during the academic year, with seasonal entries focusing on holidays, semester exams, Easter breaks and summer vacations. A perfect gift to keep Christian college students focused on what matters most!
A generation stands on the brink of a "rebelution." A growing movement of young people is rebelling against the low expectations of today's culture by choosing to "do hard things" for the glory of God.  And Alex and Brett Harris are leading the charge. Do Hard Things is the Harris twins' revolutionary message in its purest and most compelling form, giving readers a tangible glimpse of what is possible for teens who actively resist cultural lies that limit their potential.
Are you a follower of Jesus? Don't answer too quickly. In fact, you may want to read this book before you answer at all. Consider it a Define the Relationship conversation to determine exactly where you stand. You may indeed be a passionate, fully devoted follower of Jesus. Or, you may be just a fan who admires Jesus but isn't ready to let him cramp your style. Then again, maybe you're not into Jesus, period. In any case, don't take the question "Are you a follower of Jesus?" lightly.
From dorm and Greek life to dating and academia, every piece of the college equation becomes a loaded opportunity for you—and your faith—to thrive. Can You Keep Your Faith in College? will help guide you through the best years of your life.
Disciples on Campus offers help and encouragement for today's college students who are seeking to follow Jesus in a godless and self-centered environment. It is a must-have for those about to go off to college and those who have been there a while. It is great for college ministries to study together to build faith and unity. It is also an excellent gift for graduating seniors.
In this new book, David Platt, author of the New York Times bestselling book, Radical: Taking Back Your Faith from the American Dream, contends that multitudes of people around the world culturally think they are Christians yet biblically are not followers of Christ.
Going to college can be exciting, anxiety inducing, and expensive! You want your child to get the most out of their college experience–what advice do you give? Thriving at College by Alex Chediak is the perfect gift for a college student or a soon-to-be college student. Filled with wisdom and practical advice from a seasoned college professor and student mentor, Thriving at College covers the ten most common mistakes that college students make–and how to avoid them!
by Pegge
Bernecker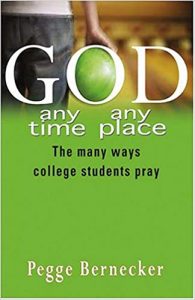 The majority of college students say they want to pray, but their busy schedules challenge them to find time to cultivate their spiritual lives. God … Any Time, Any Place shares how, when, where, and why of hundreds of college students from around the nation who recognize the importance of maintaining a regular prayer practice and have found ways to do it. By following the examples in this book, readers are encouraged to consider their own prayer practice. Each chapter contains several follow-up reflection questions to give readers a sense of how to proceed, either through individual reflection or through group sharing or both.
Walk in faith on campus and beyond…Your College Faith: Own It! serves as a field guide to faith for the student transitioning to, or seeking to make a fresh start in, the realm of college or university life. The authors help alleviate common fears about making it in college and encourage the student to experience faith in a Christian commuity that serves the unique pastoral needs of young adults.
by
College life is not easy; it requires balancing many aspects of life —beginning new routines, setting your own priorities, and immersing yourself in studies.Achieving a balanced life in the Christian tradition is often referred to as holiness, or wholeness. And a whole life is a happy life —at any stage of life. Did you just graduate from high school, and are now gearing up to go to college? Are you involved in your campus Newman Center or campus ministry and looking for a good daily devotional? Maybe this is your last year at the university, but you desire to nourish and deepen your faith. In Prayers, Papers and Play: Devotions for Every College Student, Barbara Canale encourages college students to continue to embrace their faith while away from home. Her daily devotions begin mid-August, continuing through mid-May, with a combined Friday/Saturday for your hectic and less-scheduled weekends.
Your college years are different from any other time in your life. You get a demanding new schedule – and it's yours to manage 100% on your own. You make new, lifelong friendships as you spend time with other people on a similar path in the journey. You face unique challenges as you begin to see the world differently, including what your impact on the world might be.
Many have heard of Reformed theology, but may not be certain what it is. Some references to it have been positive, some negative. It appears to be important, and they'd like to know more about it. But they want a full, understandable explanation, not a simplistic one.
What Is Reformed Theology? is an accessible introduction to beliefs that have been immensely influential in the evangelical church. In this insightful book, R. C. Sproul walks readers through the foundations of the Reformed doctrine and explains how the Reformed belief is centered on God, based on God's Word, and committed to faith in Jesus Christ. Sproul explains the five points of Reformed theology and makes plain the reality of God's amazing grace.
What is Jesus worth to you?  It's easy for American Christians to forget how Jesus said his followers would actually live, what their new lifestyle would actually look like. They would, he said, leave behind security, money, convenience, even family for him. They would abandon everything for the gospel. They would take up their crosses daily…
But who do you know who lives like that? Do you?
by Kevin DeYoung and Ted Kluck
This book presents the case for loving the local church. It paints a picture of the local church in all its biblical and real life guts, gaffes, and glory in an effort to edify local congregations and entice the disaffected back to the fold. It also provides a solid biblical mandate to love and be part of the body of Christ and counteract the "leave church" books that trumpet rebellion and individual felt needs.
by Charles Spurgeon
As an individual, you may ask, How can I, an average person, do anything to reach the lost? Or if a pastor, you may be discouraged and feel ineffective with your congregation, much less the world. Or perhaps you don't yet have a heart for the lost. Whatever your excuse, it's time to change. Overcome yourself and learn to make a difference in your church and the world around you. It's time to become an effective soul winner for Christ.
Most people slip by in life without a passion for God, spending their lives on trivial diversions, living for comfort and pleasure, and perhaps trying to avoid sin. This book will warn you not to get caught up in a life that counts for nothing. It will challenge you to live and die boasting in the cross of Christ and making the glory of God your singular passion. If you believe that to live is Christ and to die is gain, read this book, learn to live for Christ, and don't waste your life!
Bestselling author Randy Alcorn introduced readers to a revolution in material freedom and radical generosity with the release of the original The Treasure Principle in 2001. Now the revision to the compact, perennial bestseller includes a provocative new concluding chapter depicting God asking a believer questions about his stewardship over material resources. Readers are moved from the realms of thoughtful Bible exposition into the highly personal arena of everyday life. Because when Jesus told His followers to "lay up for yourselves treasures in heaven," He intended that they discover an astounding secret: how joyful giving brings God maximum glory and His children maximum pleasure. Discover a joy more precious than gold!
One of the top 50 books that have shaped evangelicals (Christianity Today, 2006)
Platinum Book Award, Evangelical Christian Publishing Association For over 40 years, J. I. Packer's classic has been an important tool to help Christians around the world discover the wonder, the glory and the joy of knowing God. In 2006, Christianity Today voted this title one of the top 50 books that have shaped evangelicals. This edition is updated with Americanized language and spelling and a new preface by the author. Stemming from Packer's profound theological knowledge, Knowing God brings together two important facets of the Christian faith― knowing about God and also knowing God through the context of a close relationship with the person of Jesus Christ. Written in an engaging and practical tone, this thought-provoking work seeks to transform and enrich the Christian understanding of God.
Renowned pastor and New York Times bestselling author of The Prodigal Prophet Timothy Keller explores the power of prayer. Christians are taught in their churches and schools that prayer is the most powerful way to experience God. But few receive instruction or guidance in how to make prayer genuinely meaningful. In Prayer, renowned pastor Timothy Keller delves into the many facets of this everyday act.
Desiring God is a paradigm-shattering work that dramatically alters common perspectives on relating to God.  Piper reveals that there really is no need to choose between duty and delight in the Christian life. In fact, for the follower of Jesus, delight is the duty as Christ is most magnified in His people when they are most satisfied in Him.
Central to God's character is the quality of holiness. Yet, even so, most people are hard-pressed to define what God's holiness precisely is. Many preachers today avoid the topic altogether because people today don't quite know what to do with words like "awe" or "fear." R. C. Sproul, in this classic work, puts the holiness of God in its proper and central place in the Christian life. He paints an awe-inspiring vision of God that encourages Christian to become holy just as God is holy. Once you encounter the holiness of God, your life will never be the same.
Why won't God reveal his special will for my life already?
Because he doesn't intend to… So says Kevin DeYoung in this punchy book about making decisions the godly way.
Many of us are listening for the still small voice to tell us what's next instead of listening to the clear voice in Scripture telling us what's now. God does have a will for your life, but it is the same as everyone else's: Seek first the kingdom of God. And quit floundering.
Want to find out more information about GLCC?
Great Lakes Christian College is a small, affordable (top 50), Christian college located in the heart of Michigan.
We can't wait to hear from you. Please call us at 1-800-YES-GLCC or email us at admissions@glcc.edu.
Would you like to get a question answered?  Text this number with your question and one of our admission counselors will be glad to respond, 517-292-4522.
To apply for our online classes click here.