APPLY ONLINE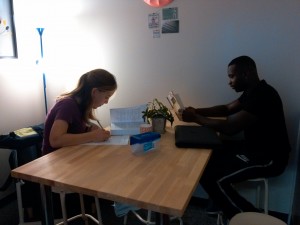 Great Lakes Christian College seeks students who can succeed academically and spiritually in a Christian college environment. Applicants who expect to enter a degree program must have a diploma from an accredited high school with a minimum GPA of 2.5 on a 4.0 scale and a minimum score of 18 on the ACT or 870 on the SAT. A pattern of college preparatory studies is also recommended. A high school equivalency certificate issued by the respective State Department of Education is correspondingly acceptable, such as the General Educational Diploma (GED) with an average score of 55%. Official transcripts for all high school credits including at least seven semesters need to be sent directly from the educational institutions to the Admissions Office.
All applicants under 23 years of age, or who have not been out of high school for more than five years, must take the American College Test (ACT) or the Scholastic Aptitude Test (SAT) and have scores forwarded to the Admissions Office. Test results will be sent directly to Great Lakes Christian College when designated on the test registration (ACT code 2009 and SAT code 7320). A composite score of 18 on the ACT or a combined score of 870 on the SAT demonstrates probable academic success at Great Lakes Christian College.
A minimum of three favorable recommendations are required. The Admissions Office will send Reference Questionnaires to individuals listed on the Application for Admission. Relatives or individuals under the age of 21 may not be used as references. One reference should be from a person familiar with the applicant's spiritual maturity, such as a minister, church leader, or Bible teacher. A second reference should be from a person familiar with the applicant's work ethic in school or the workplace. A third reference should be from a person familiar with the applicant's family background.
Students who do not meet the general admissions requirements can apply under the Emerging Scholars Program. Student must, in addition to general admissions procedures, write an essay explaining why they have not met the criteria, how they will be successful in college and why they wish to pursue an education at Great Lakes Christian College. Students must apply for the Fall Semester by July 1 and for the Spring Semester by October 1. Students may be enrolled in the Program for up to one year.  For more information on this program contact Monica Price., mprice@glcc.edu
Members of the Academic Standing Committee, prior to admission, will interview students in the Emerging Scholars Program. Students will be required to enroll in the Academic Success Class for each semester they are in the Program, and can take a maximum of 13.5 semester credits and are not permitted to participate in extra-curricular activities without the special permission of the Vice President of Academic Affairs. Students will be required to attend a two day seminar prior to Orientation Week, as well as participating in regular Orientation activities.
Early/Dual Enrollment for High School Students:
High school students, whether attending a public, private, or home-school, are permitted to enroll on a limited basis at Great Lakes Christian College prior to the completion of their high school course of study. The following stipulations apply to these students:
The student must be at least 16 years old.
The student should be in his/her last two years of high school studies.
The student is limited to six college credits per semester which must run concurrent with high school coursework and may only enrolled in freshman level courses. The Following coursese are acceptable:

NT 110 Life of Christ
EN 130/131 Composition and Grammar
HI 140/141 Western Civilization
LI 140/141 Western Literature
MU 100 Introduction to Music
CC 110 Speech Fundamentals
PY 150 Introduction to Psychology
BT 100 Introduction to Biblical Interpretation
BT 135 Personal Spiritual Formation

The student must complete the regular admissions procedure required by GLCC for "limited enrollment."
HOMESCHOOLED APPLICANTS
Admission requirements for applicants who have been homeschooled are the same as those for other applicants. They must submit a transcript of their completed high school courses as well as those that are in progress. The transcript should include a course description, grades received, and the signature of the person who prepared it. If the applicant does not already have a transcript, the GLCC Registrar can provide a form that can be used for this purpose. Also, applicants must submit their scores on the ACT or SAT to GLCC.